For Educators
Welcome K-12 Educators
IN & AFTER School!
WRiTE BRAiN BOOKS
Innovative, Project-Based, Writing Curricula & Programs in the
Fun and Academic Art of Children's Book Authoring.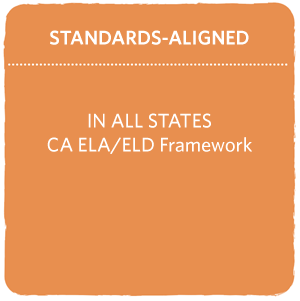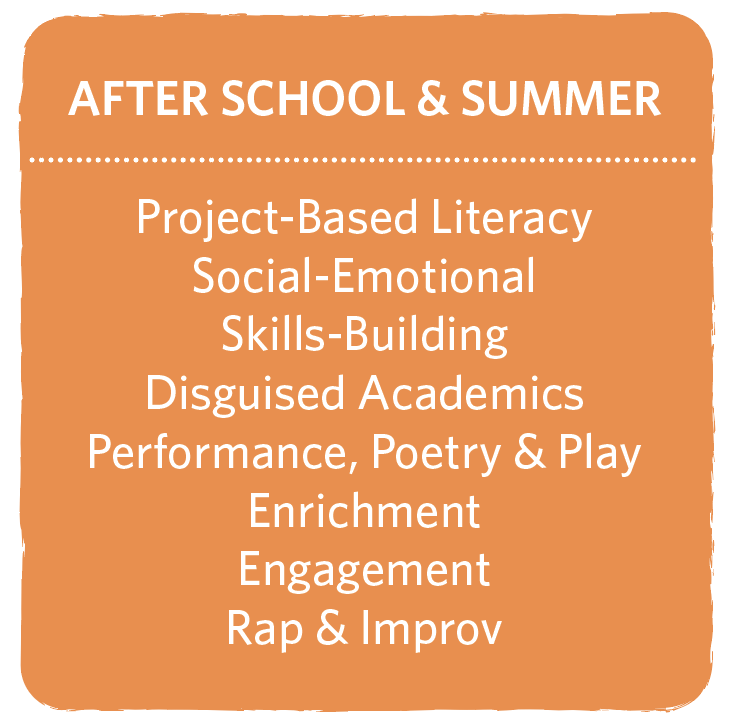 Click for Entitlement Alignment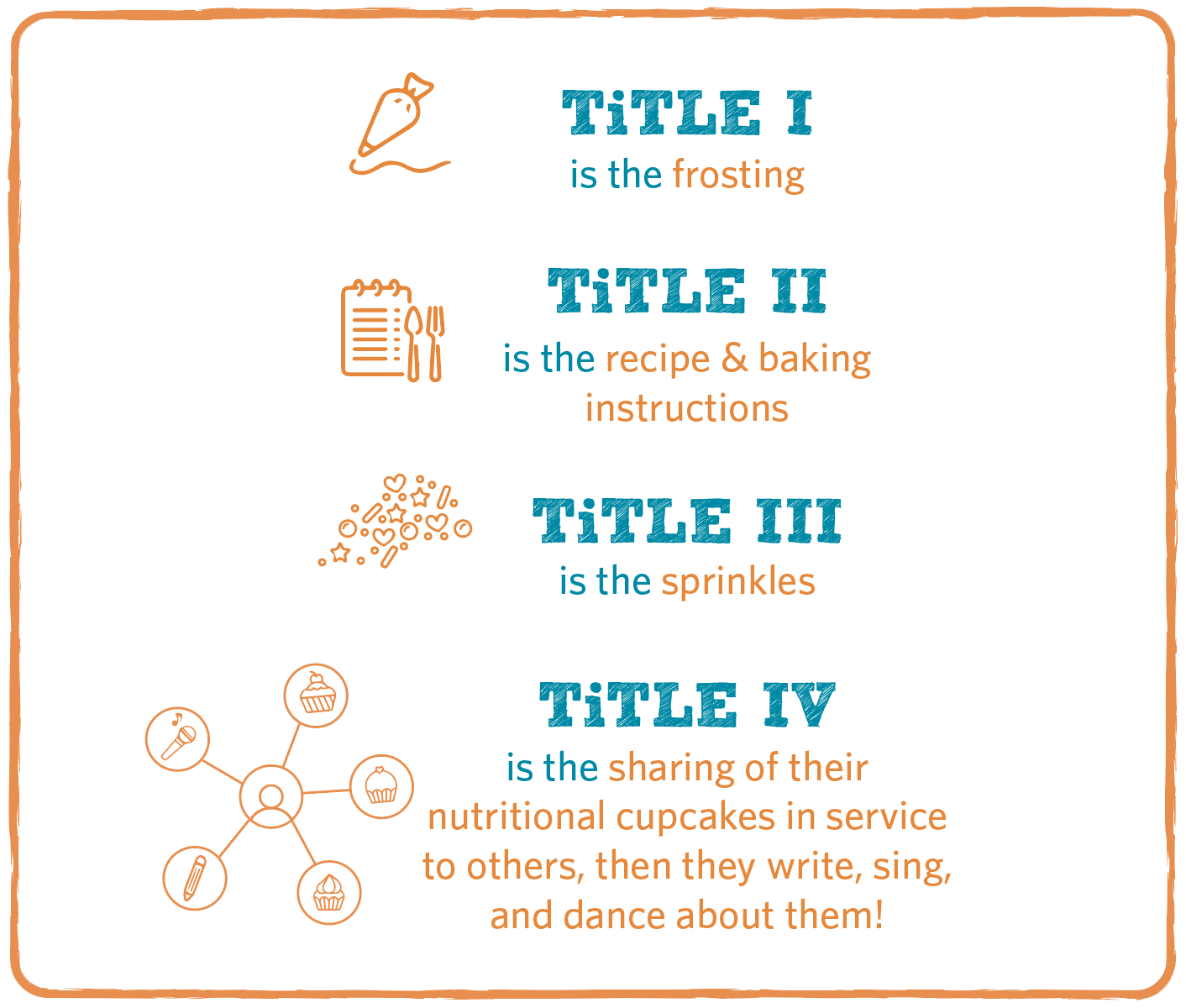 PRIMARY · ELEMENTARY · MIDDLE · HIGH
PRE-K · ADULT
Collaborative & Independent Authoring


WRiTE BRAiN BOOKS are ILLUSTRATED, WORDLESS BOOKS with lines on the pages for any student author's original story.
The program is designed to be flexible and the implementation timeline can be tailored to meet the goals of any educator BETWEEN or BEYOND THE BELLS.
The only in-depth, & standards-aligned literacy program in the highly academic art of children's book authoring, WRiTE BRAiN was developed to offer the benefits of a rigorous writing course implemented in a fun, nonthreatening and disguised learning process with students K-12.
Students write thoughtfully crafted storybooks and are "published" in the process. They collaborate in groups to write and donate a co-authored book then each writes independently, receiving high quality, professionally printed and perfect bound copies of their group and self-authored titles. Self-esteem, self-expression and test readiness elevate as students develop vital academic and social skills.
What's taught is learned experientially and is retained because skills are reinforced with repeat application that never feels repetitive due to the fact that the visual prompts offered are never the same.
With up to a FULL SCHOOL YEAR of robust lesson plans, activities, vocabulary word banks, worksheets and school-to-home assignments, WRiTE BRAiN's curricula align with states' standards as well as the CA ELA/ELD . It was designed to meet the needs of every type of learner and does.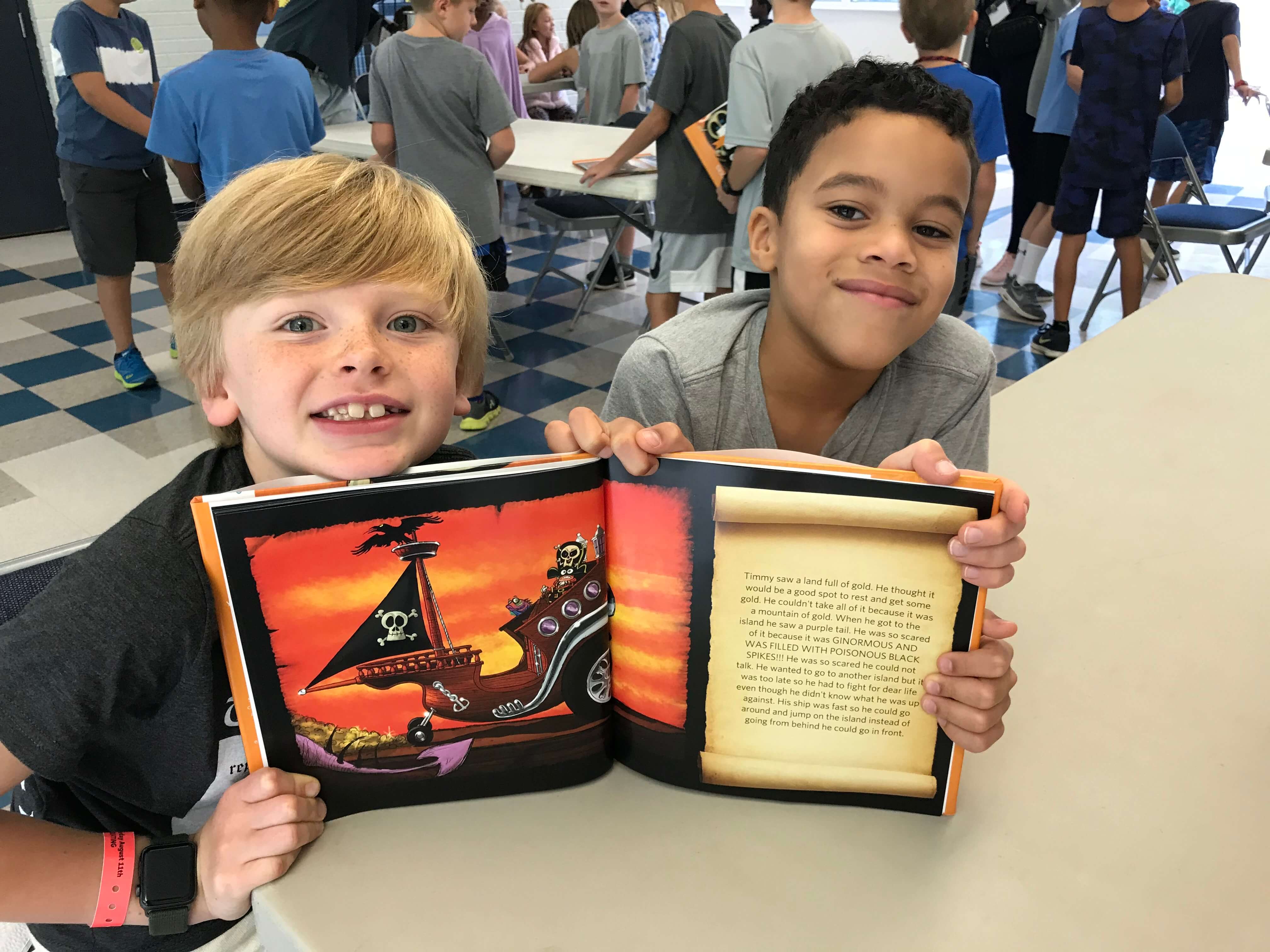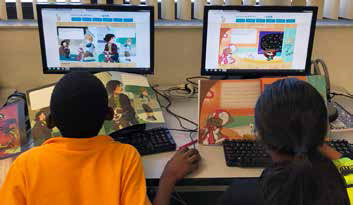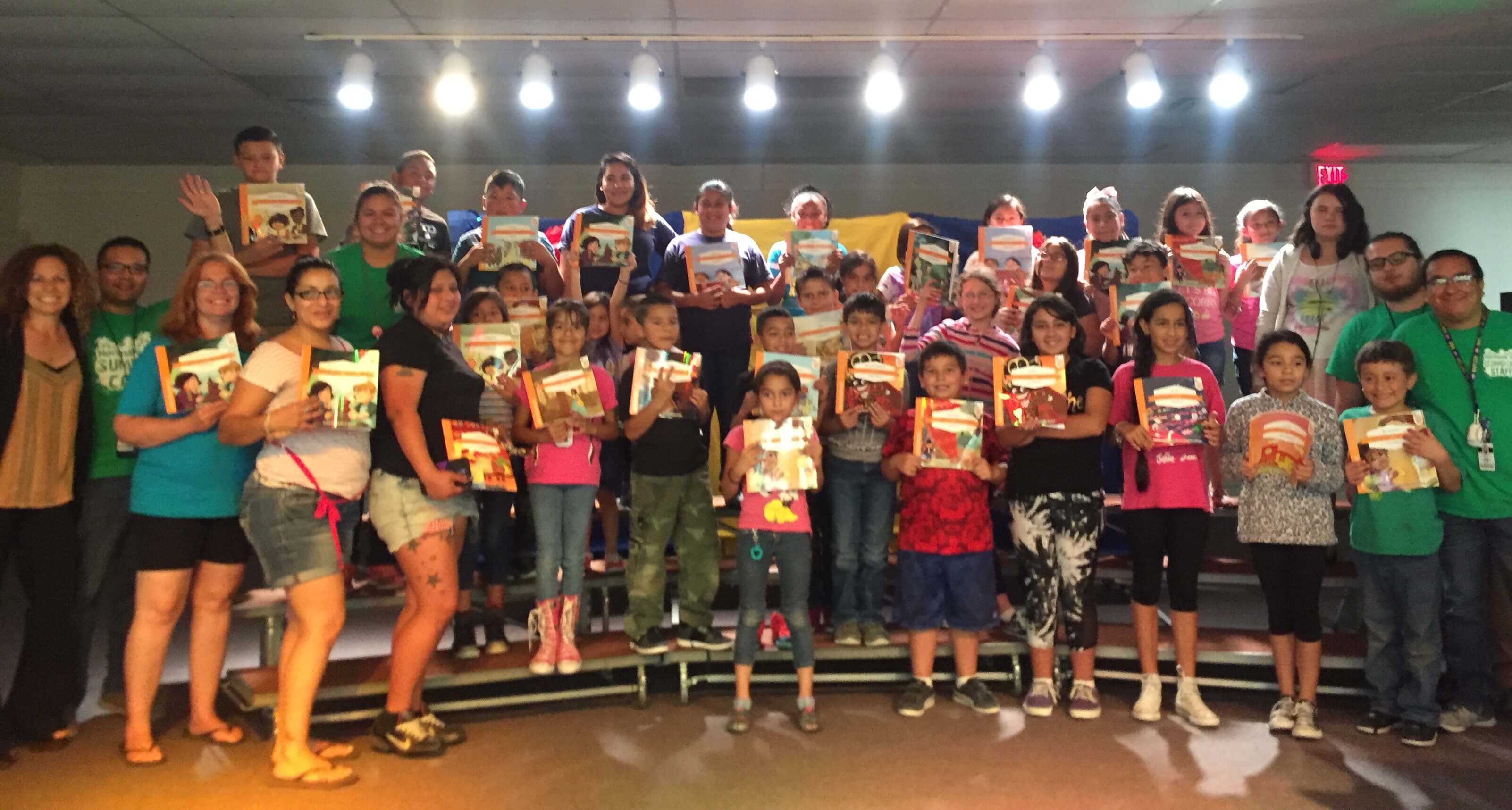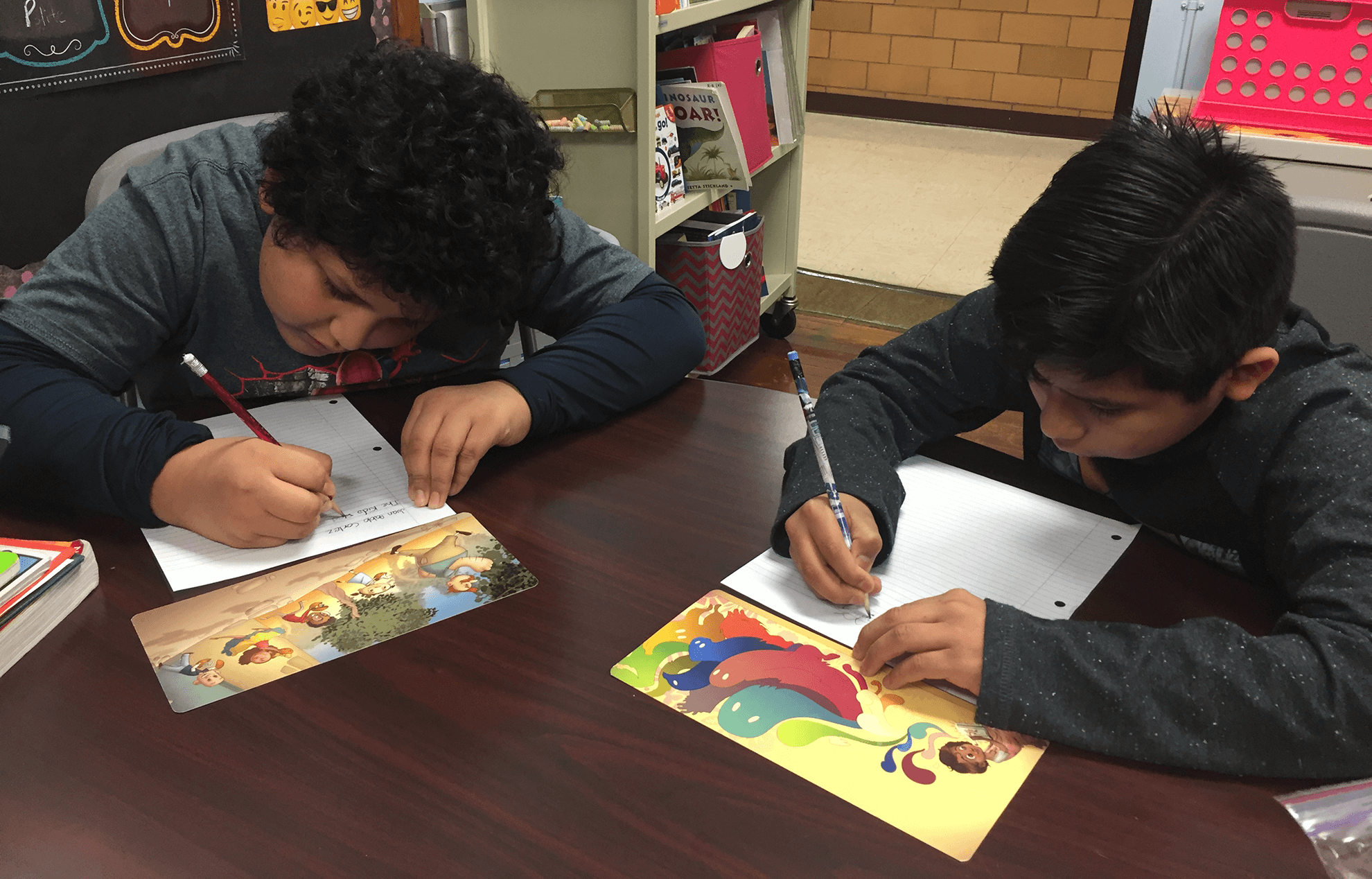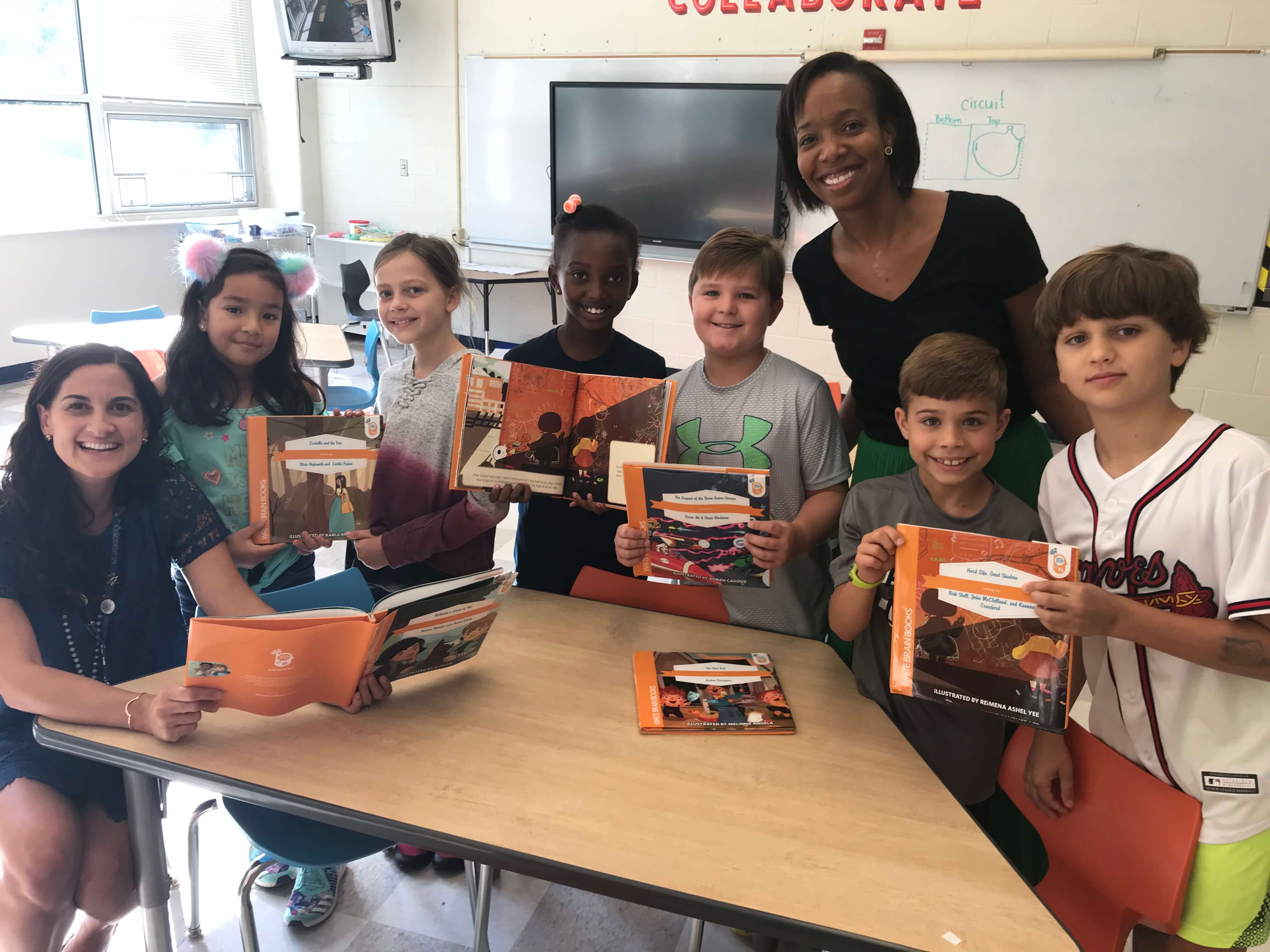 WRiTE BRAiN CHECKS ALL THE BOXES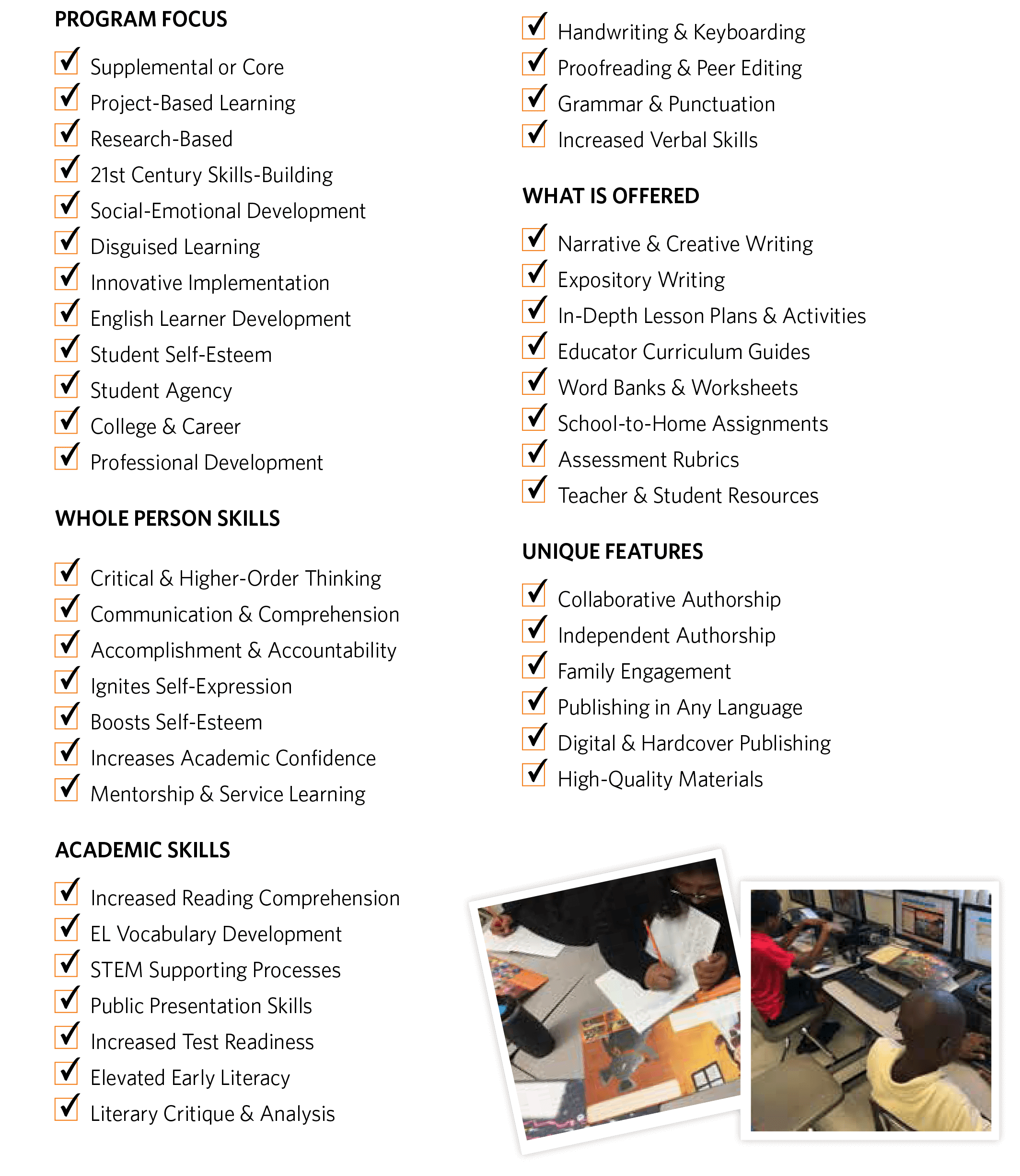 K-12 / Researched-Based / ELL Tools / Teacher Training Tools / Adult Ed.
Pre-K Early Learning Tools / LD Supplement / SLP Program

WRiTE BRAiN's
Curricula: Standards-Aligned

Between The Bells In The Classroom
WRiTE BRAiN in the 2nd Grade Classroom
6TH GRADERS WRiTiNG & THRiViNG
WRiTE BRAiN for English Learners
WRiTE BRAiN in Middle School
& Young Author's Event
High School Students & WRiTE BRAiN
in New York City
WRiTE BRAiN in Kindergarten at Warner Public School
"WRiTE BRAiN really hit the nail on the head for us because of the social component to the curriculum. It allows the students to be the social learners they are and capitalize on the richness of one another."

Ed.D. Michelle Rodriguez
Former Assistant Superintendent
SAUSD, CA
Beyond The Bells After School
Published Authors Event - Youth Policy Institute 2019
4th Graders After School with Young Authors Event
21st CCLC Authors Event School District of Palm Beach County
Summer Learning in Santa Ana, CA
Boys & Girls Clubs & WRiTE BRAiN
Published Authors Event - Youth Policy Institute
Dr. Andria Fletcher Speaks to the Need for WRiTE BRAiN BOOKS


Testimonials
"As the 2015 NJ State Teacher of the Year, I take my role in elevating students' education very seriously. I am a tough critic of curricula and instructional strategies implemented in our classrooms. I am not inspired by most of what educators are required to teach these days. I think it's quite possible that the WRiTE BRAiN BOOKS K-12 curricula is a perfect supplement to literally any literacy program, and an excellent stand-alone program where one is needed. When implemented with fidelity, WRiTE BRAiN is the vehicle to ensure student engagement, ownership, and academic achievement. I believe that this curriculum is the missing link in education as a whole."
— Mark Mautone
2015 NJ State Teacher of the Year
Lead Teacher, Hoboken Public School District
AchieveNJ Advisory Committee (NJDOE)
District Evaluation Advisory Committee (DEAC)

"The WRiTE BRAiN BOOKS program is all-inclusive and allows students from all backgrounds and ability levels the chance to feel successful. WRiTE BRAiN gives me tools and lessons that allow me to disguise the learning process for my students. They are actively involved in a rigorous, standards-aligned program in the art of authoring a children's book, and they don't even know how much they're learning. The different components allow my students to share their work in a safe environment, receive feedback, and improve their reading, writing, speaking, and listening skills."

Johanna Mancia • Middle School Lead Teacher, CA.
"With WRiTE BRAiN, my EL students were able to write in English and in the language of their choice, which made them feel valued. The program allowed me to adapt to all students' needs because it scaffolded the work and provided so many options for differentiation. Student confidence was raised and their reading comprehension improved. This program motivated the students to come to class. They were even more engaged because they could see the value in what they were making! WRiTE BRAiN is the perfect ELD supplemental program for the students we serve."

Maritza Olguin • Educator • Santa Maria Joint Union High School District CA.
With WRiTE BRAiN, our students' and teachers' passion for writing has been re-ignited! This unique learning experience has increased confidence and sparked creativity in our student authors. The SEL programs are having a huge impact as our kids journal, play improv games, learn poetry styles, and spoken word. We hosted a big 21st CCLC Published Authors Event where hundreds of students were celebrated for their accomplishments and received their published books with beaming smiles and pride!

Jayme Simms • 21st CCLC Director • Palm Beach County, FL.
"Focus in our after school program has always been academic enrichment. We've been fortunate enough to bring WRiTE BRAiN, which really encompasses not only our school board's focus, but also the focus of expanded learning programs in California. The great thing about the program is that it embeds and focuses on 21st century learning. Kids are problem solving and using strategies to make decisions as a group."

Jennifer Cisneros • Programs Director • SAUSD Extended Learning Engage 360°, CA
"As a middle school teacher, one of the things I look forward to most is when my students are genuinely excited about learning. These days, they walk in the classroom and ask, 'Do we get to write today?' The WRiTE BRAiN BOOKS curriculum meets many of the Texas Essential Knowledge and Skills standards, but it also engages students as they learn and create collaboratively."

Myia Cowles • Educator • Boys Ranch ISD, TX
""WRiTE BRAiN has been a great addition to our school sites summer programming. It allowed our youth to work on their literacy skills in a fun creative way enhancing their interest in learning. Many of the youth discussed how pushed it them out of their comfort zone, forcing them to work in groups, which inevitably taught them to be thoughtful of other people's opinions. It takes a special program to reach beyond the intended curriculum and teach youth to be considerate caring individuals. The staff were so impressed by the outcomes they are considering implementing the program during the school year!"

Mel Christensen • Boys & Girls Clubs of Oklahoma County
"The WRiTE BRAiN BOOKS curricula are truly cohesive and rigorous and allow our students to apply the CCSS English Language Arts Standards. Students are engaged in thorough lessons, where they experience the process of publication from start to finish. The program can be implemented alone, but also fits beautifully with any other writing program a school or district may be using with fidelity."

Perry Jensen • Valley Arts and Science Academy Charter School • Principal, CA
"Because each author viewed the illustrations through his or her own lens, the students' stories were completely unique, even when the images were exactly the same. The children walk away understanding perspective and how to be flexible thinkers. That is invaluable."

Monique Marshall • Wildwood School • Co-Developer of the WRiTE BRAiN BOOKS Curricula, CA.
"WRiTE BRAiN BOOKS is, HANDS-DOWN, the most engaging literacy curriculum available for our youth. Notice I didn't qualify that statement with 'afterschool.' It is beyond exceptional for afterschool programs, but is just as powerful and dynamic in the in-school, classroom-learning environment. The positive impact of this curriculum for students, educators, parents, and communities is off the charts!"

Brent Cummings • Director of 21st CCLC • Walla Walla, Washington
"The WRiTE BRAiN program not only engages our students, but also our staff, to think out of the box and to make learning fun. The lesson plans and activities are offered at their fingertips to ensure that lessons are accessible and engaging. Our instructors are able to see the vision and buy into it, therefore offering our students a remarkable experience."

Minerva Hernandez • Educator • Northside ISD, San Antonio, TX
"I frontload the WriteBrain curriculum with non-fiction articles about minority representation and authorship in children's books. It cultivates buy-in and meaning, especially when writing directly to children of their own community. As an educator, you're reading so many things throughout the day, you forget that there is a student on the other side who's really putting their energy, their effort, and their love into it. Through the WRiTE BRAiN experience, I've had the opportunity to read much more of their minds and not just their words."

Mishal Saeed • New Visions Charter • The Bronx NY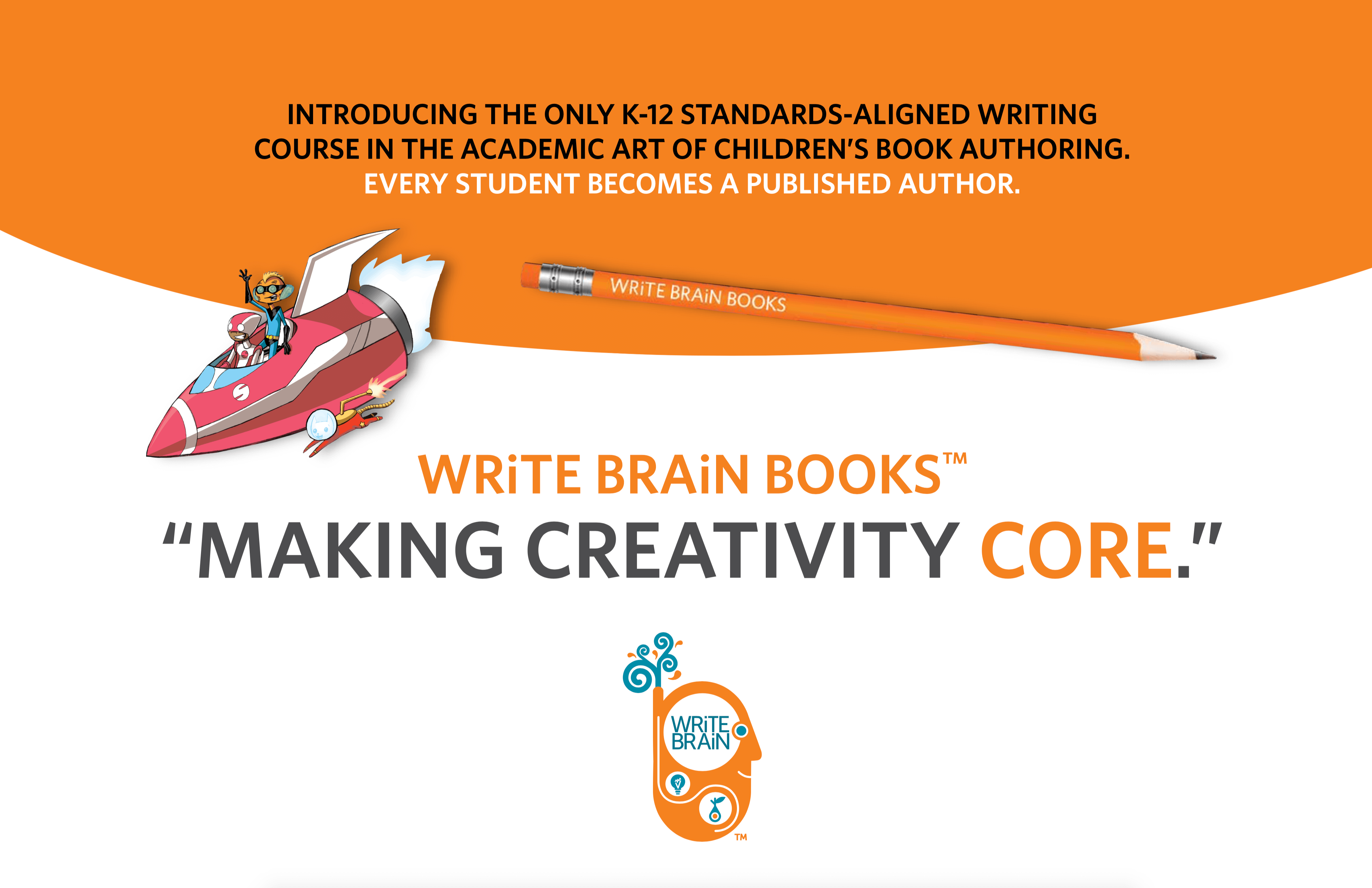 In-School
PRIMARY
(K-1st) ELEMENTARY
(2nd - 5th) MIDDLE
(6th - 8th) HIGH
(9th - 12th)
Implementation can run anywhere from a FULL SEMESTER to a FULL YEAR
The in-depth lesson plans, graphic organizer worksheets, school-to-home assignments, and high-quality materials and teacher/student resources support a classroom unit of study on NARRATIVE & CREATIVE WRITING, including: drafting, revising, editing, literary analysis, character development, storyline planning, setting snapshots, punctuation, grammar, perspective/POV, tense, research, handwriting, keyboarding, collaborating, peer review, descriptive language, vocabulary.
ALL-INCLUSIVE PUBLISHED AUTHORS PACKAGE
(Packages come in sets of 20 - Discounted pricing starts at 200 students)

Up to a FULL YEAR of Lesson Plans & Additional Activities for Students K-12
Collaborative & Independent Authoring
Every student is published twice.
CLICK TO VIEW CLASS PACKAGE CONTENTS
Yes, we offer pre-implementatiom training & on-going
professional development / support!
PLEASE CONTACT US FOR A QUOTE OR TO DISCUSS
ALTERNATIVE PACKAGE OPTIONS.
WE WORK WITH SCHOOL OR DISTRICT PARTNERS TO CUSTOMIZE A PROGRAM PACKAGE THAT MEETS ANY BUDGET OR IMPLEMENTATION TIMELINE.
After-School
PRIMARY
(K-1st) ELEMENTARY
(2nd - 5th) MIDDLE
(6th - 8th) HIGH
(9th - 12th)

STUDENTS BECOME PUBLISHED AUTHORS RECEIVING HARDCOVER COPIES OF THEIR ORIGINAL STORYBOOKS TO PROVE IT!
Implementation cycles can begin anytime and run anywhere from 8 weeks to a FULL SEMESTER to a FULL YEAR
WRiTE BRAiN isn't just Project-Based Learning... It's Project-Based Literacy!
WRiTE BRAiN BOOKS PROVIDES EVERYTHING YOUR STAFF WILL NEED to ensure that students develop new and vital skills, increase their enthusiasm for learning, and experience boosted self-esteem. English Language Learners take ownership of the English language, writing willingly and fearlessly and presenting their stories aloud.
WE DESIGNED OUR PROGRAMS TO HELP YOUR ORGANIZATION meet the day-to-day challenges of keeping kids engaged, inspired, and educated in expanded learning hours. You spoke. We listened.
OUR INNOVATIVE, OUT-OF-SCHOOL TIME PROGRAMS activate creativity and critical thinking, comprehension, communication and collaboration skills in kids of all ages. They work in groups with their peers to coauthor a story before writing their own books independently.
THE WRiTE BRAiN BOOKS PROGRAM IS DELIVERED IN EASY-TO-FOLLOW FACILITATOR GUIDES making the program easy for you to structure for your desired timeline. The full program can be implemented as it is outlined in the guides or can be restructured for a full semester or full school year to allow for increased use of all materials and fortified development of vital skills.
KIDS TAKE ON THE MEANINGFUL RESPONSIBILITY OF WRITING AND PUBLISHING A CHILDREN'S BOOK and become deeply invested in all aspects of the process. Each student develops his/her own voice as he/she creates characters that have voices of their own.
AFTER SCHOOL: ALL-INCLUSIVE PUBLISHED AUTHORS PACKAGE
(Packages come in sets of 20 - Discounted pricing starts at 200 students)
CLICK TO VIEW LIST OF PACKAGE CONTENTS
Yes, we offer pre-implementation training & ongoing professional development / support!
PLEASE CONTACT US FOR A QUOTE OR TO DISCUSS
ALTERNATIVE PACKAGE OPTIONS.
WE WORK WITH PARTNERS TO CUSTOMIZE A PROGRAM PACKAGE THAT MEETS ANY BUDGET OR IMPLEMENTATION TIMELINE.
WRiTE BRAiN puts the "A" in STEAM with Authoring, Art andAnimation
WRiTE BRAiN for English Learners
CLICK HERE to read about: WB & English Learners
CLICK HERE for Research Article: ELs USING WORDLESS PICTURE BOOKS
NEWCOMER
EMERGING
EXPANDING
BRIDGING

WRiTE BRAiN's standards-aligned curriculum for English Learners of all ages is highly-scaffolded and designed to meet EL students exactly where they are in their language development. The teacher's guide is packed with resources to help EL students progress by leaps and bounds.
PROCESS ATTRIBUTES & RESULTS
Non-threatening pace
Individualized scaffolding
Wordless prompts
Native language drafting
Required verbal presentation
Enhanced oral fluency
Consistent review & revision
Improved handwriting
Increased reading comprehension
Both Integrated & Designated ELD
Increased vocabulary retention
Authentic vocabulary translation
Universally accessible
Diverse characters
Increased test-readiness
Boosted academic confidence
Elevated self-expression
Increased self-esteem
RECLASSIFICATION OF ENGLISH LEARNERS
WRITING
READING
LISTENING
SPEAKING
Students compose short and long-form written narratives in English and in their native language. They revise drafts, complete multiple worksheets, peer edit, analyze, and critique each other's stories. They share feedback with their fellow authors. Students are given a pre- and post-project survey, a selfassessment checklist, and present narratives orally throughout the process.
The robust WRiTE BRAiN curricula – along with rubrics, graphic organizers, vocabulary word banks, and newcomer scaffolding – develop skills in the areas measured by state tests nationwide.
"With WRiTE BRAiN, my EL students were able to write in English and in the language of their choice, which made them feel valued. The program allowed me to adapt to all students' needs because it scaffolded the work and provided so many options for differentiation. Student confidence was raised and their reading comprehension improved. This program motivated the students to come to class. They were even more engaged because they could see the value in what they were making! WRiTE BRAiN is the perfect ELD supplemental program for the students we serve."

Maritza Olguin • Educator • Santa Maria Joint Union High School District CA
WRiTE BRAiN for English Learners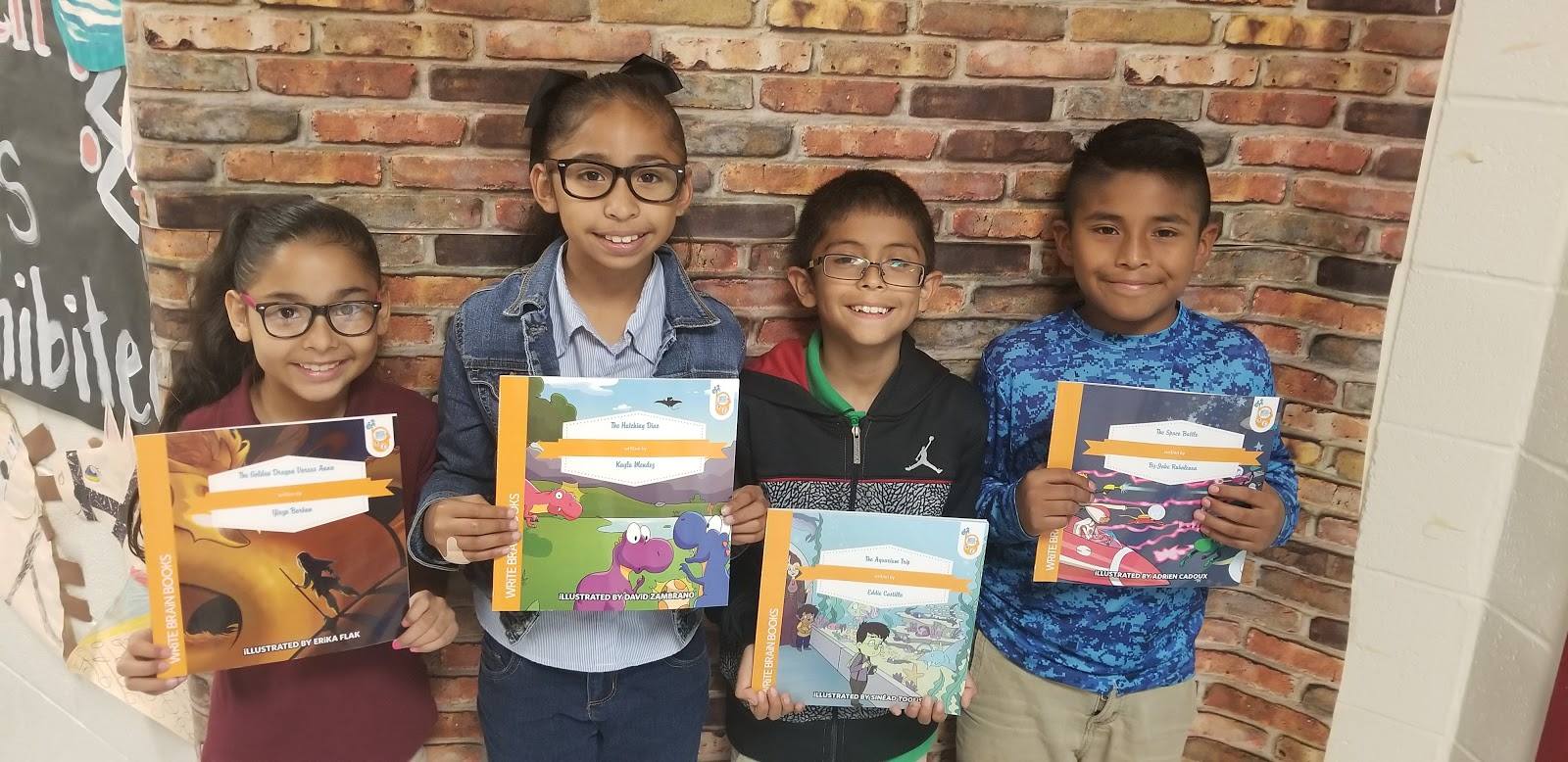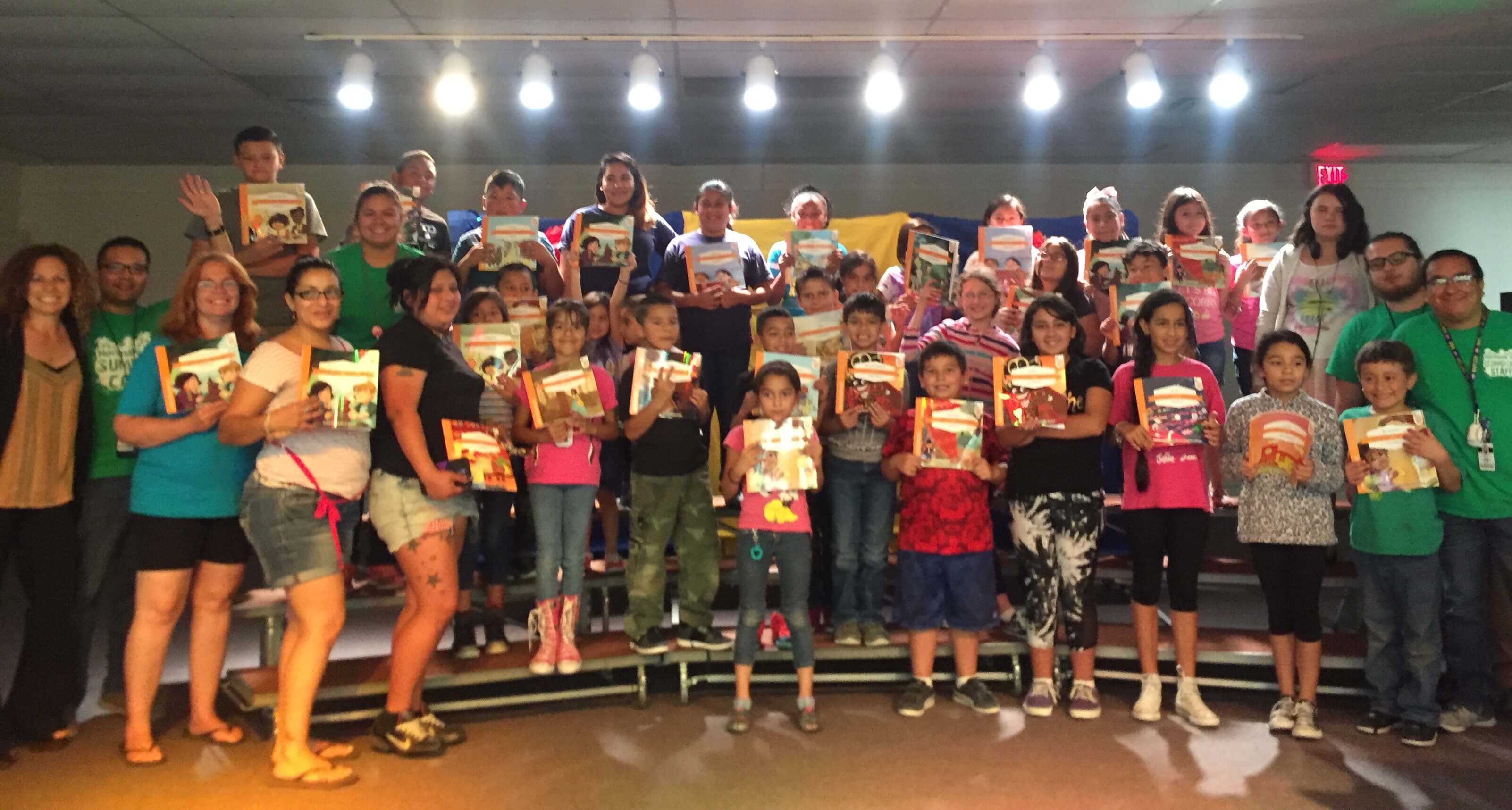 WRiTE BRAiN
FOR NEWCOMER & EMERGENT ENGLISH LEARNERS (K-12)
STANDARDS-ALIGNED, PROJECT-BASED
WRITING CURRICULA IN THE ACADEMIC
ART OF CHILDREN'S BOOK AUTHORING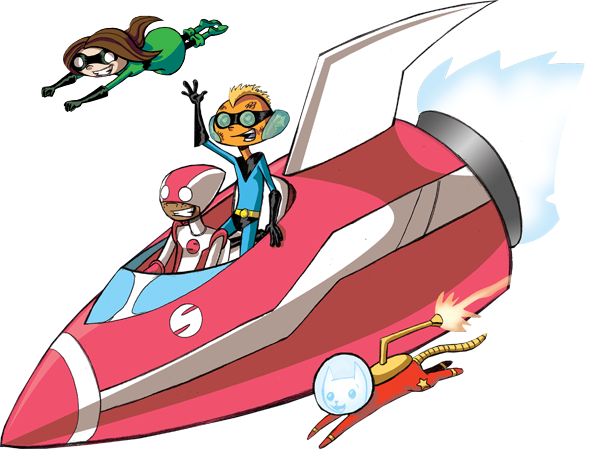 This 142-page curriculum guide is jam-packed with instructional strategies, scaffolding, and student resources - all specifically designed to engage and inspire your Newcomer & Emergent ELs in a process that feels fun and nonthreatening while preparing them for English Language reclassification tests, high-lever education, and career.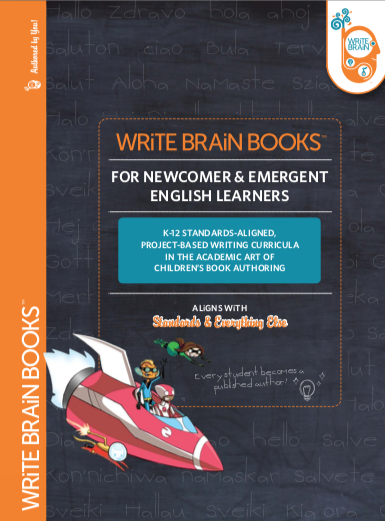 "I have taught English Learners exclusively during my career as an educator. We measure English language acquisition in four domains: listening, speaking, reading and writing. Each student tends to master language in that order. Writing is the hardest domain for these students, and until WRiTE BRAiN, I struggled to get my EL's to write much more than a paragraph. With the WRiTE BRAiN curriculum, they never want to stop writing. Student engagement is evident in every lesson, and often I have students stop me in the hall to ask if it is a 'WRiTE BRAiN day'.
I have always had the philosophy that if you can get your students to love what they are doing, they will learn more and develop habits that will last their entire lives. WRiTE BRAiN doesn't just teach a lesson, it creates writers. When you love what you are learning, you put more passion and effort into it. WRiTE BRAiN learners love the curriculum. They are motivated to write their books, proud of their accomplishments, confident in their ability and eager to continue writing.
I believe the secret to the program is the creativity factor. There isn't a right answer, there are an infinite amount of right answers. That truly is the key to WRiTE BRAiN. The possibilities are endless."
Brynne Baruch M.Ed.
EL Instructional Coach
Christina School District, Delaware
WRiTE BRAiN IS
SEL
SOCIAL-EMOTIONAL LEARNING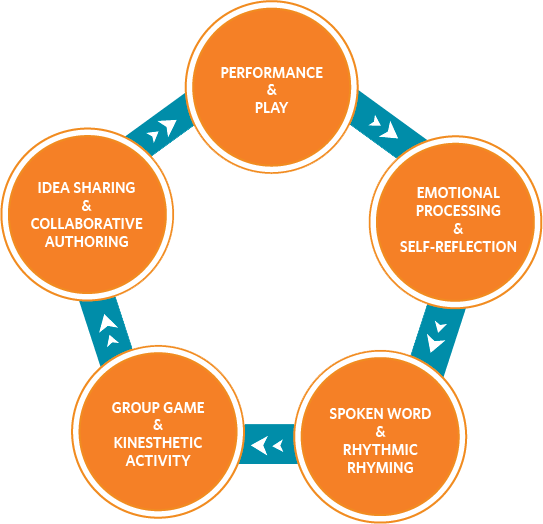 These new and inspired "add-on" programs are designed to be sprinkled over the course of your WRiTE BRAiN authoring program implementation with activities and experiences that cultivate social-emotional learning. The highly engaging, innovative, and RIDICULOUSLY FUN approaches excite students of all ages between and beyond the bells!

WRiTE BRAiN's curricula and after school programs incorporate aspects of all five SEL core competency areas as defined by CASEL's integrated framework!
Self-Awareness · Self-Management Social Awareness · Relationship Skills Responsible Decision-Making
"Write Brain has done it again! The exciting and new SEL programs give students more moments to create and express themselves while disguising core language arts/reading curriculum. It's all truly terrific! WRiTE BRAiN's programs are inclusive of the arts. As a fine arts teacher, I know the importance of allowing students to be creative and watching them shine in the process. With these programs, our students have shown us that they only need a little guidance from us to produce wonderful masterpieces. WRiTE BRAiN works for us; winter, spring, summer, and fall!" -Marcus Tanelus · Educator, 21st CCLC, West Palm Beach, Fl
OUR SEL/PBL PROGRAMS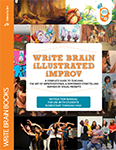 iLLUSTRATED iMPROV
fun, creative, public presentation, collaboration, social-emotional, storytelling, fast-paced, word association, performance, confidence-building, laughter, family engagement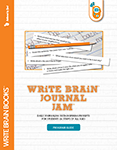 JOURNAL JAM
creativity, reflection, self-expression, fun, processing, handwriting, social-emotional, self-esteem boosting, memory-making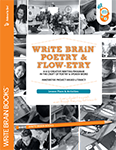 POETRY & FLOW-ETRY
playful, cultural, self-expressive, critical thinking, kinesthetic, educational, performance, cross-curricular, fun, creative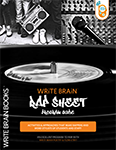 WRiTE BRAiN RAP
collaboration, self-expression, creativity, performance, word association, musicality, poetry, family engagement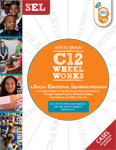 C12 Wheel Works S.E.L. Program
social-emotional learning, self-esteem boosting, creative writing, collaboration, project-based learning, role-playing, community engagement, cultural connections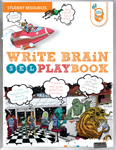 S.E.L. PLAYbook
creativity, self-expression, slow processing, kinesthetic learning, self-directed, family engagement


Training & Professional Development
"Yesterday was a fabulous team building day for the WRAP family. The feedback was extremely positive. My staff said it was the BEST training they've attended. I hope you know how incredible you and your team are. The impact you made on my people and program will be lifelong. Thank you again!"
Karen Geib, • (WRAP Expanded Learning Program, Long Beach Department of Parks, Recreation and Marine)
Our initial full-day pre-implementation training is a highly interactive and engaging, hands-on overview of the WRiTE BRAiN BOOKS program. We provide ongoing support in subject areas relevant to our in-school curricula and after school programs. We train educators and facilitators how to successfully deliver the program in any and all learning environments. We can customize and craft trainings to adapt to your staff and learning community.
Following a full-day training, WRiTE BRAiN will provide a Recap and Overview Report summarizing the learning objectives that were achieved during the training and any observations.
WRiTE BRAiN offers a robust menu of training and staff professional development opportunities for all types of education communities: school day teachers and coaches, after school instructors/facilitators, community leaders, and families.
Our educational services are customized to meet your needs and those of your students and staff. We offer innovative programs and interactive professional development to support educators/facilitators throughout implementation.
In-Person Training:
Participants will learn step by step how to facilitate the group and independent authoring process by actually writing their own WRITE BRAiN BOOK with the other participants during the training. In this hands-on training, participants experience the entire program as if they were students.
Virtual Training:
2-hour, interactive virtual training, tailored to the needs of your program.
For ongoing professional development, we offer:
Virtual coaching calls
Site Visits / One-on-one coaching
Group coaching and mentoring
Peer leadership methodologies and planning
Culminating event brainstorming and support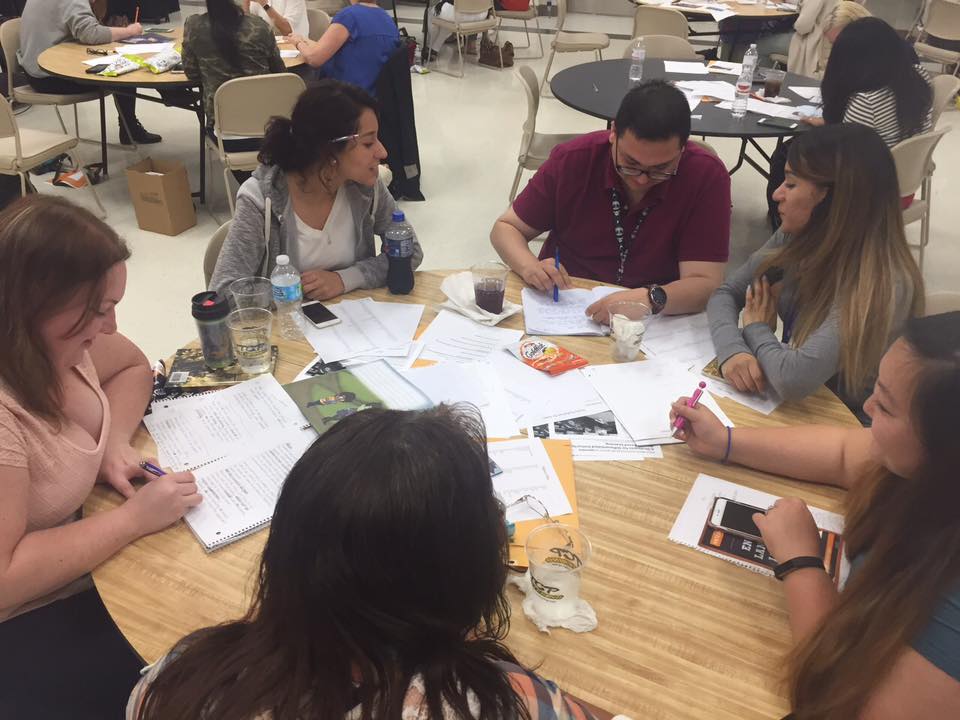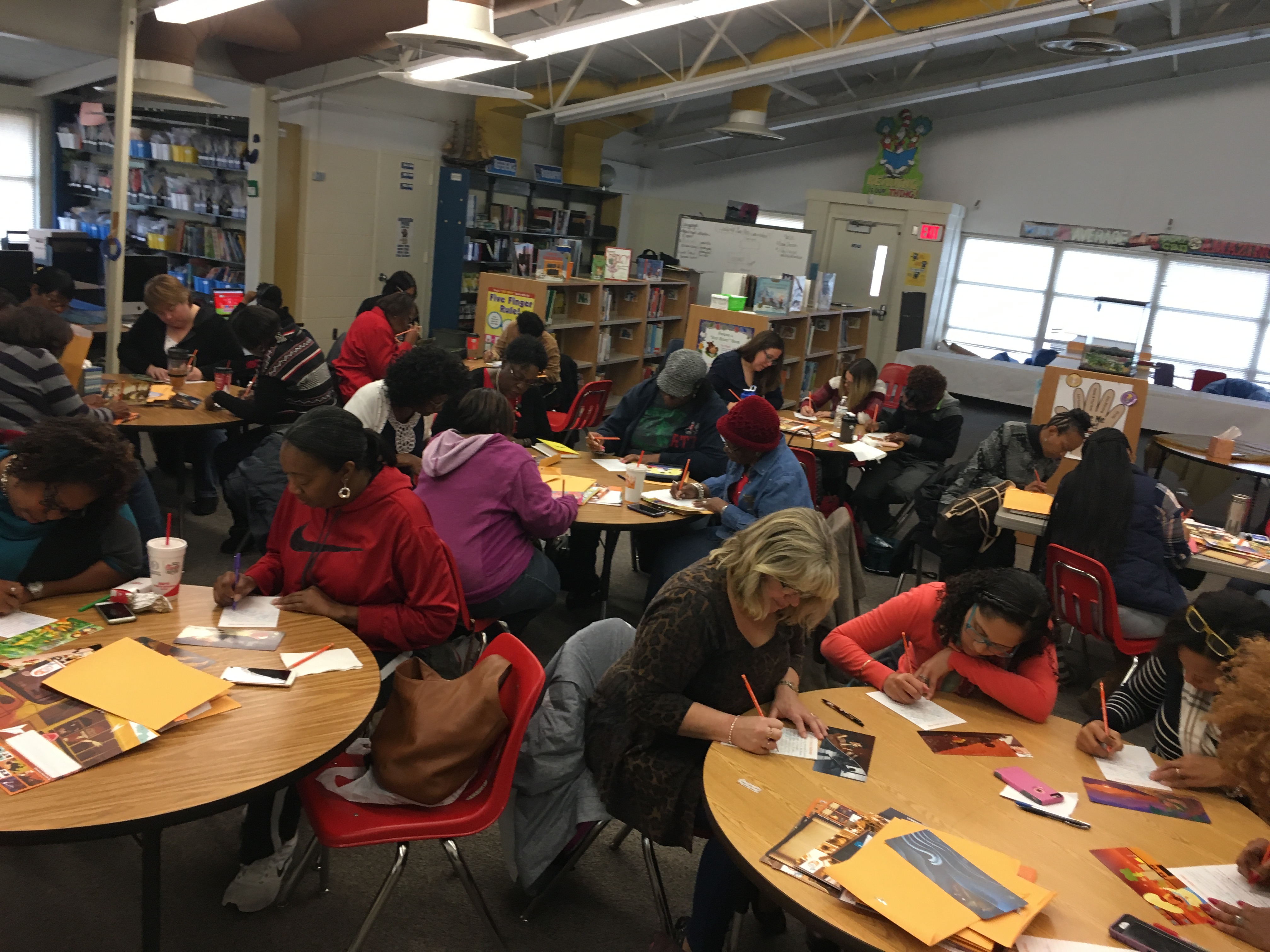 The Perfect Summer Program
Huffington Post Article about WRiTE BRAiN SUMMER by Afterschool Alliance Executive Director, Jodi Grant

CLICK HERE to view Case Study
PUBLISHED AUTHORS KIT PROGRAM PACKAGE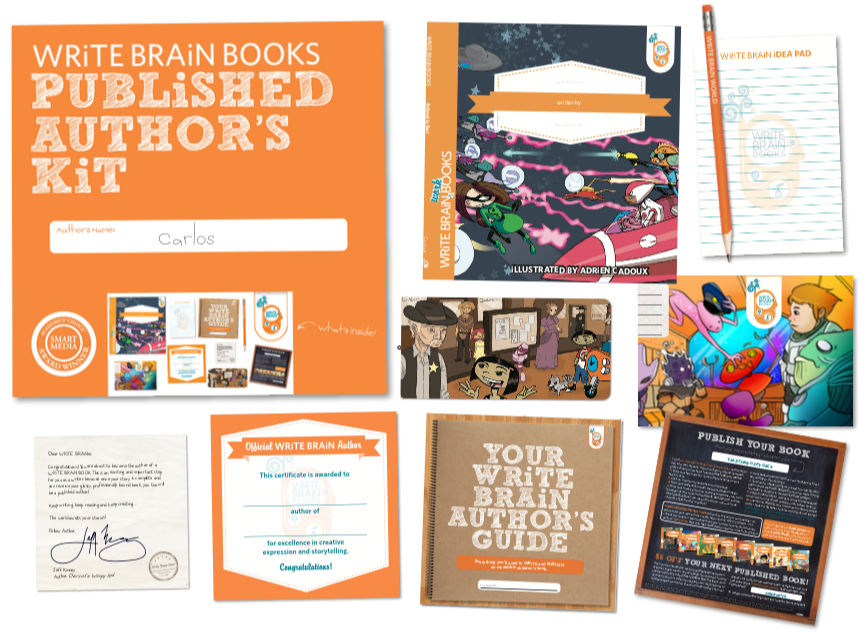 12 DIFFERENT STYLES "MULTI-PACK OF 6"
EDUCATORS BETWEEN & BEYOND THE BELLS!
The Published Authors Kit Program Package includes student resources and Scope and Sequence Guide for educator/facilitator. It is a robust structured experience that can be implemented in as little as 15 hours or stretched to 27 hours or more during summer months or any other time of year!
Each kit contains everything students need to become creative and expressive authors of their own children's books. Becoming a children's book author is an exciting, imagination generating experience that makes students of all ages want to write and share aloud. It's academic and engaging, and "disguised learning" at its best. Students can collaborate with multiple authors sharing one kit, as well as write independently - each using their own kit. The kit includes a code for a published copy of a student's book, however, books can only be published on our website's Book Builder, and shipped to an address in the Continental U.S..
*Published books ship to U.S. addresses ONLY




WRiTE BRAiN BOOKS for EARLY LEARNERS

With WRiTE BRAiN BOOKS, preschoolers create the storylines and characters in short stories and full children's books by voicing their ideas aloud and collaborating with their peers and teachers.
Class Authoring
Group Storytelling
Social-Emotional Development
Making Connections
Identifying Transitions
Close-looking and Comprehension
Imaginative Play
Understanding Sequencing
Vocabulary-Building
Verbal Expression
Engaged Sharing
Active Listening
Tangible Rewards
Accelerated Literacy Readiness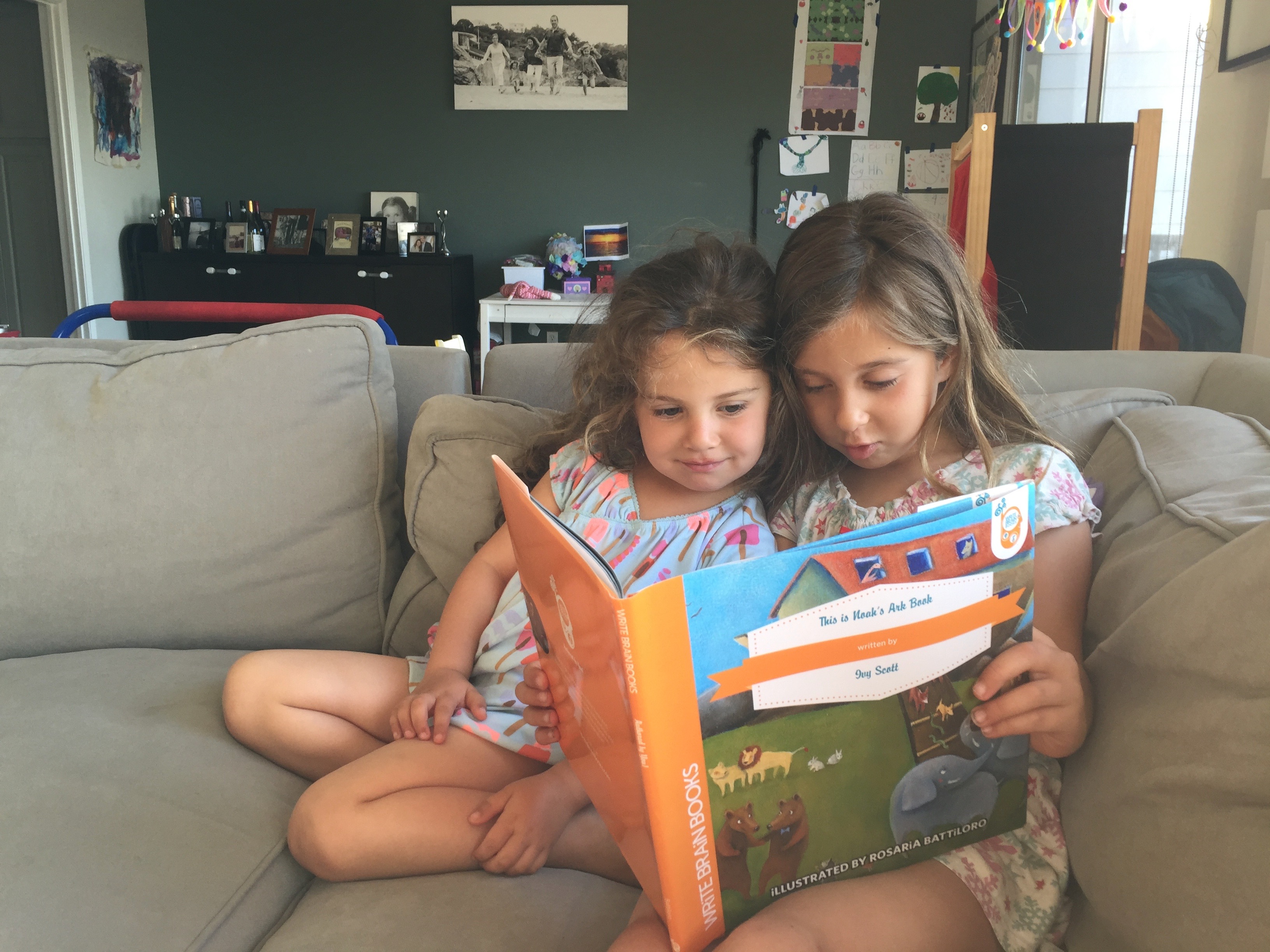 For More Information or to request a purchase quote:

Contact US AT: 1.855.WB.BOOKS OR [email protected]

WRiTE BRAiN BOOKS for Adult Education

A meaningful literacy program, perfect for Adult English Learners and GED candidates!
The Adult Education curriculum of the WRiTE BRAiN BOOKS narrative and creative writing program is designed to help adult students prepare for literacy courses at the collegiate level and beyond in an inspiring way that disguises academic writing and makes it more desirable.
The WRITE BRAiN BOOKS Adult Ed curriculum develops 21st Century learning skills and prepares adult learners for college, community and career environments, as well as real life scenarios that will help to create the fabric of their futures.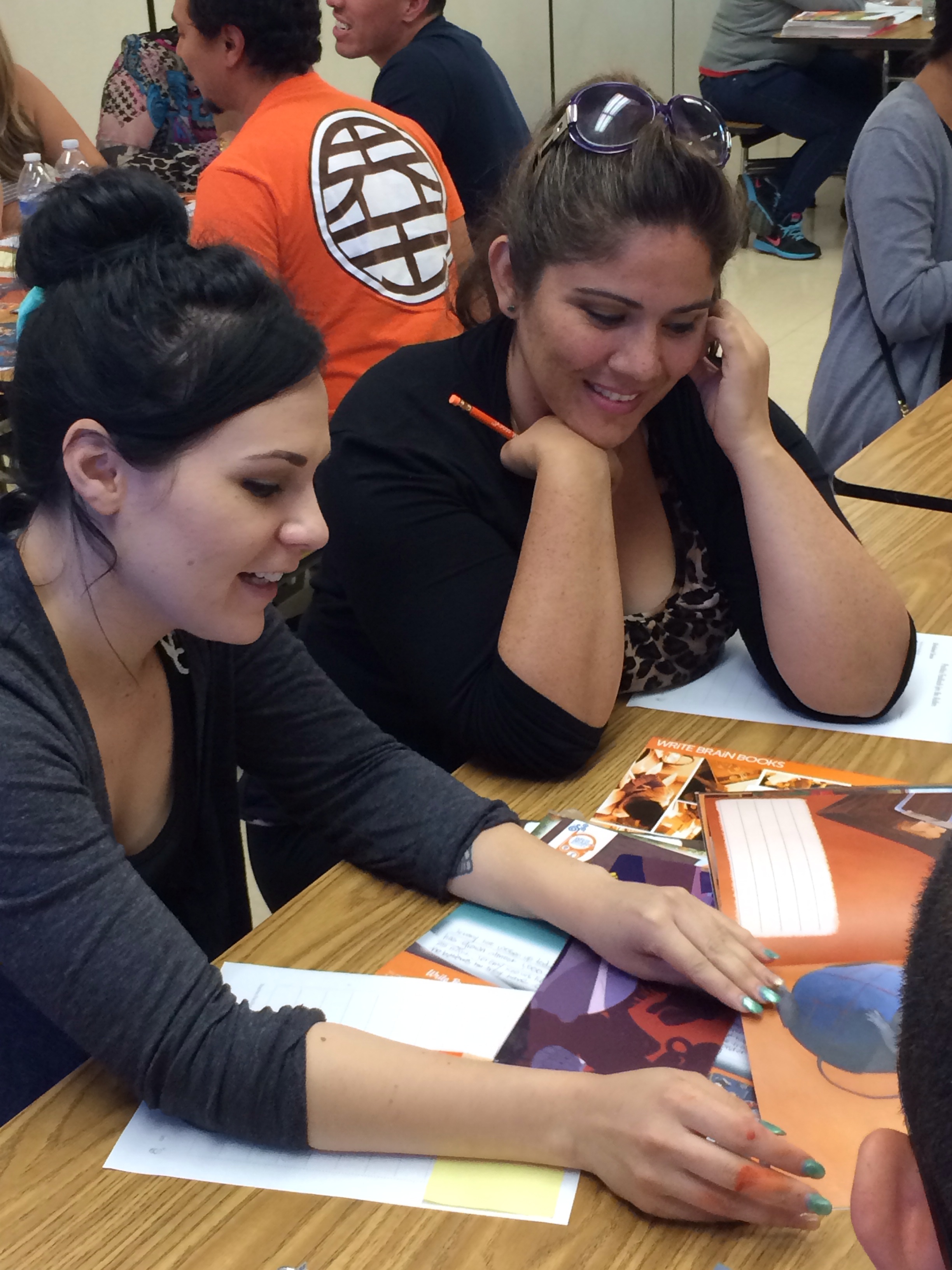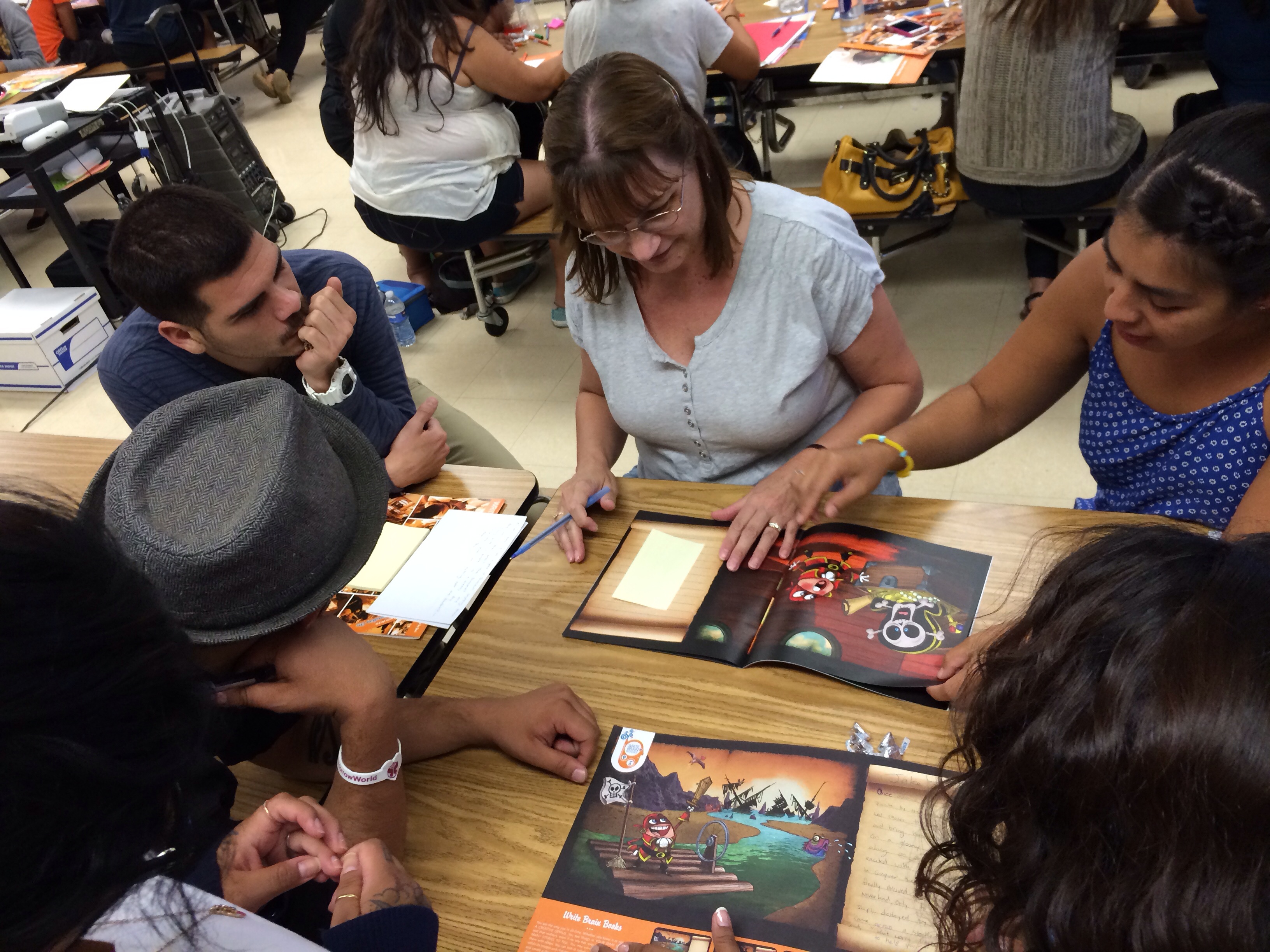 WRiTE BRAiN is Research-Based

Program Extensively Piloted Before Launch
Scope
Geographic locations: urban and rural communities throughout California
Number of participating sites: 8
Program types: Community-based organizations, school districts, county offices of education
Grade Levels: 2nd through 5th grades
Number of participating students: 186
Number of participating staff: 16 (8 staffers worked directly with students; 8 Site Directors worked intermittently with students and observed the process)
Number of Credentialed teachers/educators who observed the pilot: 12
Length of the pilot: Eight weeks (4 days per week for 45 minutes per session on average)
(Click the links below to view pilot surveys)
Collaboration
The research pilot study was conducted in after-school settings and was designed to determine the extent to which the use of WRiTE BRAiN BOOKS and the Curriculum/Facilitator's Guide produced positive results in outcomes for students in the following areas:
Improvement in writing skills
Increased enthusiasm for language arts in general and in writing specifically
Demonstrated ability to work collaboratively, communicate effectively, think critically and problem-solve constructively.
The study was divided into two parts, with the first four weeks devoted to students co-authoring books in small groups and the second to students writing one book independently. Assessments were made through pre- and post-surveys administered prior to the beginning of the class and at the conclusion. A project-based learning approach was used throughout the process.
This study was prepared by Dr. Andria J. Fletcher, PhD For WRiTE BRAiN BOOKS - June 5, 2014. All research was performed and analyzed by Dr. Fletcher who is a nationally recognized expert in program, policy, and leadership development who co-authored California's first after-school legislation, leading to $550 million in annual funding.

The Whole Brain of WRiTE BRAiN
Our Touch & Tech approach in Classrooms
At WRiTE BRAiN BOOKS we embrace technology and the advanced programs that exist and give young people a great deal of freedom as they endeavor to create remarkable things. Any WBB author can write any of our books on any tablet with a stylus or the tip of their finger. However, we believe that it is the experience of first hand-writing a story into our richly-illustrated classroom workbooks, then uploading a completed story to our website or app, that promotes the development of numerous necessary skills resulting from a WHOLE BRAIN approach to our process. Becoming a WRiTE BRAiN BOOKS author is an achievable challenge! Justin Reich is a fellow at Harvard's Berkman Center for Internet and Society, and the founder of EdTechTeacher, a professional development consultancy that trains teachers to use tech effectively.
Justin, who advocates for tech in the classroom, says, "The first step in rethinking how we teach should be a renewed examination of how kids learn. Before we fall down the techno–rabbit hole and demand tablets in every classroom, we need to seriously reconsider, for example, whether teaching content, as opposed to cognitive skills, can adequately prepare our children for 21st-century professions. In other words, our nation's educational mindset—one that traditionally uses fact-regurgitation as a marker of success—desperately requires a reboot."
"Many teachers want to emphasize independent thinking, but primary-school curricula (sic) are still largely geared toward 'teaching to the test.' According to Dr. Gary Small, a neuroscientist at UCLA and author of iBrain: Surviving the Technological Alteration of the Modern Mind, this model is long out-of-date." Dr. Judy Willis, a neurologist and adjunct professor at the University of California, Santa Barbara, who has also taught elementary and middle school, says that knowledge learned via memorization is particularly susceptible to the "use it or lose it" phenomenon.
"The brain's procedural memory will only be activated in the way that memory was first learned," she says. Translation: we learn to play a musical instrument, speak a language, or sail a boat by actively practicing these skills. In contrast, students who absorb information specifically for a test can usually only recall that information for the test.
When we experience pleasure, our brains release a neurotransmitter called dopamine. "The brain is a dopamine junkie," says Willis. "It wants to remember things that release it." She says that active participation is by far the best way to encourage this.
Excerpts from New School -- How the digital revolution is turning learning upside-down by Jennifer Miller