Write Brain Store
AUTHOR'S KITS
CLICK HERE TO VIEW ALL
The WRiTE BRAiN Author's Kit is a fun and inspiring 11-piece activity kit that includes everything you need to become the author of your own, original children's book, which is then PUBLISHED and shipped to your door! Each book is uniquely illustrated with YOUR story on its pages! There's even a space for your photo and author's bio in the back of the book! Every kit includes a personal note from author Jeff Kinney (Diary of a Wimpy Kid). It's more than an activity...it's an experience!
8 UNIQUE KITS TO CHOOSE FROM!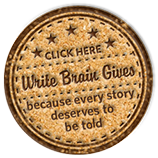 A percentage of proceeds from sales of the WRiTE BRAiN Author's Kit helps fund WRiTE BRAiN GiVES, a non-profit organization that provides our educational programs and materials to underserved youth and communities.
WORDLESS BOOKS
CLICK HERE TO VIEW ALL
READY TO BECOME A PUBLISHED CHILDREN'S BOOK AUTHOR?
WRiTE BRAiN's wordless books are richly illustrated and have lines on the pages for YOUR original and amazing story. Just look at the colorful images and bring them to life with your written words!
8 UNIQUE STORIES TO CHOOSE FROM! Write them all and build your personal library!
Its as easy as 1. Write 2. Publish 3. Share! After you write your wordless book, log on to our BOOK BUILDER and purchase a PUBLISHED hardcover or softcover book!
STORY PUZZLES
CLICK HERE TO VIEW ALL
A titillating twist on a time-honored toy! An innovative approach to an old-time activity! Okay, you get it. Each puzzle comes with a Story Mat (an illustrated poster with lines for a written story) and a pencil. After a child creates his or her puzzle, he or she writes a short story about the puzzle's artwork. Kids can tell a different tale each time they build the same puzzle! Put-together puzzles are temporary, but the stories about them live forever.
8 UNIQUE PUZZLES TO CHOOSE FROM! Build your story, then write it!